Exchange migration application reinstall

Steps to reinstall EdbMails Exchange migration tool
Reinstall or move to a different machine
Reinstallation
Reinstallation of the software is required where it is recommended by EdbMails Support, in a situation where you accidentally deleted the EdbMails installation files or Windows security updates or damages to your Windows registry, or your hard drive gets corrupted, etc.
How to reinstall
To reinstall the software, you can simply download and install the latest setup.
Uninstall the software from Windows Control Panel first
Run the setup and install the software a new
Note:
EdbMails Exchange migration is designed in such a way that uninstalling and reinstalling does not remove any configuration files or databases. So, all the settings will be retained.
Important
If you wish to reinstall the software, including deleting all settings files completely, you need to remove the software and install it from scratch. Such an operation may result in unforeseen data loss and other problems, such as item duplication on the target server. We strongly recommend consulting with EdbMails Support before rushing into this decision.
Move installed program to a different machine
EdbMails Exchange Migration is designed to be moved to another computer once installed and configured and you have migrated the mailboxes.
Copy and paste the meta-data folder 'C:\Program Files (x86)\EdbMails\MDATA_MGR' from the migrated computer to the new computer. Set the 'Temp location for meta-data' folder with the copied folder from your previous migration machine. Refer to the below screenshot.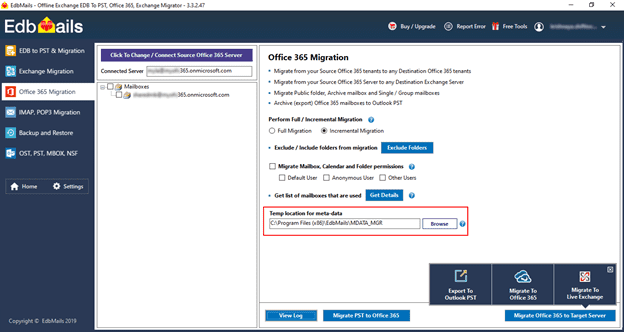 hidden msg
EdbMails Demo / Trial Version
Step 1. Download and install EdbMails
Step 2. Click the 'Start Your Free Trial' button
You have selected Personal Bundle license. Using this license, you can recover and export EDB files,
PST files and OST files to PST. For Office 365 and Live Exchange Migration, choose the suitable plan.

Hi, May I help you?
Hide Chat Now