Features and more....
Secure your Exchange online backup with AES 256-bit Encryption
All the backups done using EdbMails are securely with AES 256-bit military-grade encryption to ensure maximum security. Every individual backup file no matter how big or small it maybe, is secured through AES 256-bit Encryption Standard. This minimizes the risk of unauthorized access to your backed up data.
Incremental exchange online backup
EdbMails application performs incremental backup of your exchange mailboxes / public folders. Initial Backup will be always full backup. Incremental Backup will avoid duplicate item creation on consecutive backups. For Incremental Backup, you need to backup specific mailbox from the same computer.
Automatic reconnect during any intermittent internet connection
With EdbMails you won't have to worry about any intermittent connection issues as it reconnects automatically and progress the backup.
Source / Target server interruption — if a Source / target server experiences an interruption, the source/target network connection is physically broken but both the source and target maintain the connection information. Application Availability source, not being able to communicate with the Availability target server, in this situation EdbMails tries to reestablish the connection and proceeds with the backup.
Reliable exchange online backup
With EdbMails you can backup or archive all your exchange mailboxes locally. This gives your organization the freedom to choose where the backups are kept and also decide who manages it, instead of having to rely on third party cloud storage solutions of doubtful integrity.
Does not affect End-User - Zero downtime
The Exchange online backup operation doesn't impose any restrictions on the use of mailboxes by the users. Users can continue to work as they normally would while EdbMails continues with the backup tasks assigned to it in the background. This means no disruption to the workflow and zero downtime.
Stable restore Exchange online backup process
Effortlessly restore all the backed up emails, contacts, tasks, calendars etc at any time the need arises. There is also option to selectively restore the mailbox components that you wish instead of as a whole. EdbMails also gives you the flexibility to decide whether to restore the mailboxes to their default location or any other location of your choice.
Constant Monitoring
EdbMails has a self-diagnostic mechanism that will continually monitor all ongoing backup operations. You'll be promptly notified of the progress of all activities in detail. The summary of the backup operation will be generated as logs.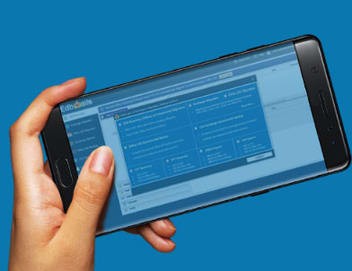 Steps to Exchange Backup using EdbMails application
Step 1. Start the EdbMails application and click the 'Start your free trial'
Step 2. Select 'Live Exchange Incremental backup' and click the 'Continue'
Step 3. Login to your Exchange Server as prompted and follow the steps
Step 4. Select all mailboxes that you wish to backup and choose the backup location.
Step 5. Click the 'Backup using AES 256-bit Private key based Encryption' and Continue.
Step 6. Upon operation completion, appropriate message will be prompted.
How do EdbMails Backup your Exchange Mailboxes
EdbMails Exchange Backup can be installed on any Windows machine. You can connect Exchange servers via EdbMails and do exchange online backup of mailboxes and public folders. You can do full backup or continuous incremental backup. Continuous backups are performed in cycle sequence for backup operation. The first backup creates a backup copy of all the data that meets the criteria defined by the user. Subsequent backup cycles create only incremental backup in places where changes have been introduced.
Why EdbMails Exchange online backup
Exchange online backup is a basic necessity to safeguard your company's data. There is always risk from outages, cyber attacks, data corruption and even inadvertent or intentional deletion of data. This is where EdbMails for exchange backup can come handy; it not only saves your data but also acts as an additional layer of protection.
Exchange backup mailbox
EdbMails is an all in one Exchange Server backup utility which makes the backing up of your exchange mailboxes to your local storage, a simple and straightforward process. With EdbMails each mailbox can be backed up into individual encrypted files while maintaining the original folder structure intact. Allows you to selective backup, EdbMails can backup individual or multiple mailboxes to encrypted files as per your convenience.
Backup Multiple Mailboxes
You can take backup by selecting multiple mailboxes associated with your Exchange server. Each mailbox will have a new encrypted file created. The backup will be incremental. Even if mailbox UPN ID is different from the actual email id of the mailbox, you can backup the mailboxes without any issues.
Custom CSV import
EdbMails also has the provision for custom CSV import into the utility making the restoration process quicker. When dealing with a large number of mailboxes, a custom CSV can help make the mailbox mapping for restoration easier by many folds.
Extensive Filtering options
EdbMails comes built in with a variety of include/exclude filters which ensure that you are able to sort out mailbox items to your liking for the backup. These filters allow you to filter by date/item type, subject, to/from address, exclude folders that are empty.