Microsoft 365 Teams migration
Migrate Microsoft Teams and SharePoint sites between O365 tenants

Smart

Microsoft Teams Migration
Automated data migration with less manual work.
Migrate all
SharePoint and Teams

data

Transfer SharePoint, Office 365 Groups, OneDrive, Microsoft Teams data between tenants, including Sites, Sub-sites, Communication Sites, Meetings, Teams, SubTeams, Files, Groups, Audio, Video, Properties, Private and Shared Documents in a few clicks. Work with the same team and improve your collaboration by migrating Owners, Members, and Permissions.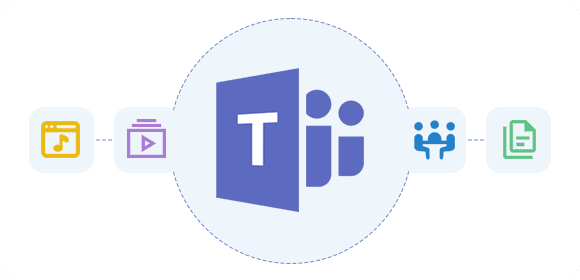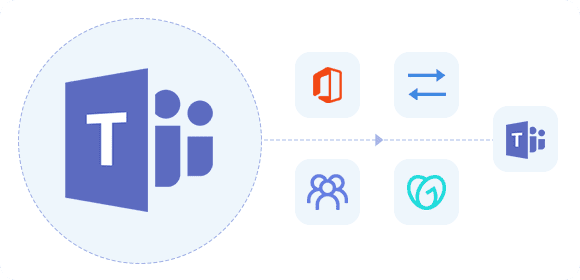 Migrate between Office 365 Tenants of the
same or different

domains

EdbMails makes it possible to easily transfer Microsoft Teams data across Office 365 domains including messages and their replies. For instance, you can safely switch your server from GoDaddy to Microsoft with the same domain name and migrate without losing your valuable data.
Safe and Secure Teams migration
EdbMails uses secure Microsoft APIs for migration, and your login is protected by OAuth 2.0 and TLS encryption. Migrate with complete confidence, knowing that your login credentials will never be compromised or stored on the application's servers.
Learn more
Competent and Efficient
EdbMails is a high-performance Teams migration software that maintains a perfect folder and site hierarchy on the target while preventing data loss. It is fully automated and does the job without the need for sophisticated scripting or coding skills.
Granular Teams migration
Using the include / exclude filters you can migrate the data selectively such as individual SharePoint sites, folders such as Documents, Site Assets, Libraries and so on based on Date, Subject and combining them with logical AND / OR conditions.
Learn more
Automatic Mapping of Teams data
EdbMails can automatically map SharePoint, OneDrive and Teams site collections, folders between the source and target Office 365 tenant and also allows you to save the mapping details for successive migrations.
Learn more
Microsoft Teams Migration

Step by Step
Not sure where to start? Follow 3 simple steps to finish the job.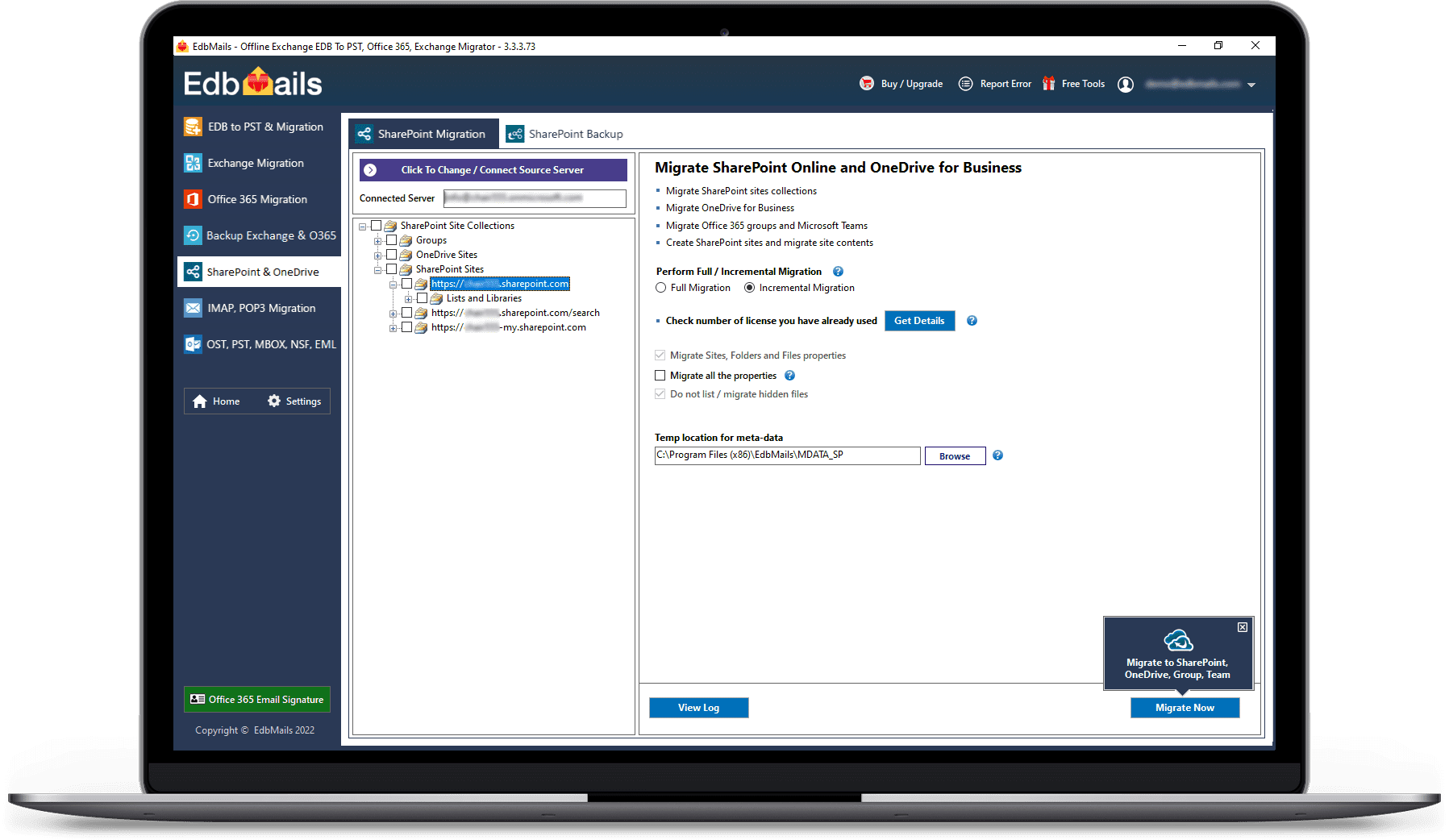 Step 1: Download EdbMails and select the option 'SharePoint Sites, OneDrive, O365 Groups & Teams Migration'.

Step 2: Login to the source Office 365 admin account with appropriate company site URL and credentials.

Step 3: Select the required Microsoft Teams sites and click 'Migrate to SharePoint, OneDrive, Group, Teams'.
Overview of the
Key Features
Learn about EdbMails useful features for a smooth SharePoint, Teams and OneDrive migration.
Migrate a
wide range

of your Teams data
EdbMails is the ideal tool for Teams migration that you can rely on and trust.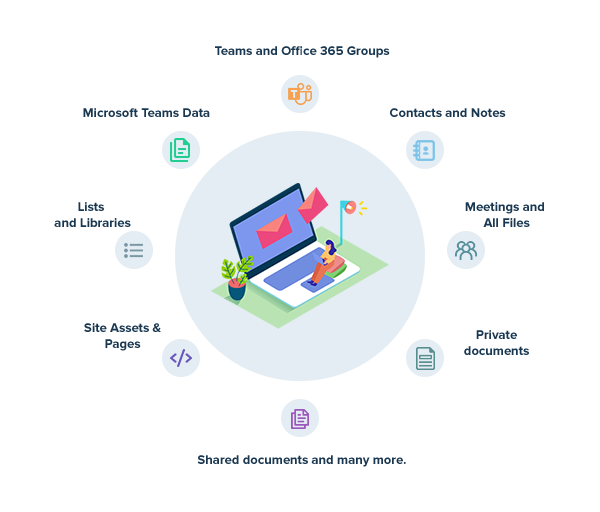 Work less and
migrate more

with EdbMails Teams migration
The application provides you complete freedom to decide what to migrate.
Single software management
EdbMails neatly displays all of the Team Sites data on its graphical interface giving you a quick overview of what to migrate. You can install the software on any Windows PC or virtual machine and start migrating your data with Microsoft 365 Global credentials.
Centralized graphical interface
The software includes a centralized console from which you can perform a variety of operations such as selecting individual SharePoint sites, using filter options, mapping mailboxes, and performing the migration step by step without losing focus or flow.
Frequently asked
questions
What are some of the Microsoft Teams migration best practices?

Microsoft Teams is a widely used communication and collaboration tool in business environments and migrating Teams data during company mergers, acquisitions can be challenging without a proper plan. EdbMails can help you ease the challenge and migrate Teams data step-by-step. Click here to learn more about Teams migration best practices.

How do I move my Microsoft Teams from one tenant to another?

EdbMails can help you migrate Microsoft Teams data from one Office 365 tenant to another from its user-friendly user-interface without requiring manual procedures. Click here for step-by-step instructions to migrate Teams.

Can I migrate documents, Teams folders and their properties?

Yes. EdbMails can migrate Documents, Teams folders and all their properties intact. It even retains the exact same structure and hierarchy of the sites and folders which makes a seamless migration possible.
How to migrate Microsoft Teams on Windows 10?

EdbMails is a Windows based migration tool and is compatible with all Windows operating systems (Windows 11, 10, 8.1, 8, 7, and XP) and all Windows server versions (2003-2022). It is a lightweight application best suited for SharePoint, Teams and OneDrive migration without a hassle. Learn More

Can I try out EdbMails Microsoft Teams Migration before I buy it?

Yes. You can try EdbMails demo / trial version for a quick test / review using 2 easy steps:

Step 1: Download and install the EdbMails application
Step 2: Click the 'Start Your Free Trial' button on the main interface. Learn more

Does EdbMails also support backing up SharePoint and Teams data?

Yes. EdbMails supports an all encompassing SharePoint, OneDrive and Teams data backup. The backup copy is granular and incremental allowing you to select specific items and perform consecutive backups (which saves only the new and updated items). Learn More