OST to Office 365 features
| Feature | EdbMails |
| --- | --- |
| Free OST file recovery and viewer | |
| Recover OST file without Exchange server or Active Directory services | |
| Migrate all emails calendars, contacts and more | |
| Migrate selected items and folders to Office 365 account | |
| Incremental Office 365 migration without duplicates | |
| Migrate Public folders, Archive and Shared Mailboxes | |
| Granular OST recovery and Office 365 migration | |
| Secure migration with Multi Factor-Authentication (MFA) | |
| OST to Office 365 import without data loss | |
| Automatic mailbox mapping between source and the target | |
| Recover virus infected EDB files | |
| Recover and export unlimited OST files to PST | |
| Recover old OST files from legacy Exchange servers | |
| Automatic impersonation right setting on target Office 365 | |
| Automatic mailbox creation on the target Office 365 account | |
| OST to Office 365 without any third party dependencies | |
Migrate email, calendars, contacts and more
EdbMails is perfectly designed for complete mailbox migration from an OST file. It is simple to migrate entire mailbox items such as calendar, contacts, distribution groups, Tasks, Notes, Data Journal, Public folders, Archive Mailboxes, Shared Mailboxes, Massive mailboxes, and so on to the target Office 365 tenants. The software provides a secure environment for migrating mailbox items to the target Office 365 while preserving the original folder structure.
Migrate selected emails, folder and its items from OST file
When importing from OST to Office 365, it is unnecessary to import everything from the source. This not only wastes migration bandwidth, but it also migrates unnecessary folders such as Junk that are not required during the import. In such cases, you can use EdbMails filter options to migrate selected mail contents which can be done two ways. By applying the Include/Exclude option, you can export based on the Date, Subject, Attachment, From, To, Cc, Bcc. By selecting the option Exclude Standard/Custom folders you can deselect certain folders for the import such as Junk, Custom folders, Conversation History and so on.
Truly incremental migration operation
Incremental migration refers to the process of transferring the contents without duplicating the data on successive migrations. With EdbMails, you can perform an incremental migration while importing the contents from an OST file to an Office 365 account. This means that when you first import the contents, all the mail items are transferred to your target account. On successive import operations, only the newly added/arrived items from the same source file from the same PC are transferred without creating duplicates on the target. Incremental migration improves the migration efficiency and saves bandwidth.
Migrate Public Folders, Archive and Shared Mailboxes from an OST file to Office 365
EdbMails can import public folders, shared and archive mailboxes. Public folders store data in a deep hierarchy and it becomes difficult to import the contents manually. If you are looking to import the contents of a public folder, it demands the knowledge of PowerShell scripts. EdbMails can directly import the contents of public folders of any size and volume to Office 365 without using any PowerShell cmdlets.
Granular migration from OST to Office 365
Granular migration refers to the process of migrating items in granular chunks rather than migrating the entire mailbox contents. This technology ensures that even the smallest data is migrated and that data consistency is maintained on both the source and target mailboxes, with no data missing or lost. You can ensure that all of your data is recovered and migrated with EdbMails' granular recovery and migration.
Secure and reliable migration with Multi-Factor authentication
EdbMails complies with all of the security standards required for the migration operation and directly migrates from the source to the target. In addition, it is Information Security Management Standards ISO 27001 certified ensuring that the entire import process is highly secure. At no point in time are your Office 365 credentials saved. EdbMails further employs OAuth modern authentication based on ADAL which is known to be a secure Office 365 login method. As an additional layer of security for accessing Office 365 data, the software also supports Multi-Factor Authentication making the login process all the more secure.
Convert OST to Office 365 without data loss
EdbMails imports the contents of the source OST file to Office 365 in the most secure manner. After the import process is complete, the target account has a replica of the contents from the source without any data loss. This means that the folder and file structure is retained intact so that you can start using your Office 365 account as soon as the import process is complete.
You can automatically reconnect during intermittent internet connection
EdbMails supports importing OST to Office 365 without causing any disruptions during the process. You don't have to worry about intermittent internet connection issues on the source or target server because it automatically reconnects and continues with the import operation from where it had left.
Map mailboxes automatically between the source OST file and target Office 365
The manual method of mapping mailboxes is time-consuming. When mapping a large number of mailboxes for different domains, the migration process takes longer. This is handled automatically by EdbMails migration tool by an exact matching of source and target mailbox address, by the nearest matching of the target mailbox name with the source mailbox or by matching the display name of the source and target mailboxes.
Set impersonation rights automatically on the target Office 365 account
Impersonation is the ability for a single account to access multiple mailboxes. It enables an application to use a dedicated service account to access multiple users' mailboxes and data. For example, when impersonation rights are set to an admin account, he can migrate other user's mailboxes without logging individually into each one of them. EdbMails can automatically set impersonation rights to dedicated accounts so that it is easy to perform the import operation.
Create mailboxes automatically during OST to Office 365 migration
Administrators face challenges during the migration process because the entire target environment must be prepared before starting the actual migration process. If the migrating user does not have a mailbox on the target server, manually creating mailboxes on the target server and assigning the license would be difficult for the user, especially for a large number of mailboxes. However, EdbMails makes it simple to create mailboxes on the target Office 365 tenant and assign licenses to them.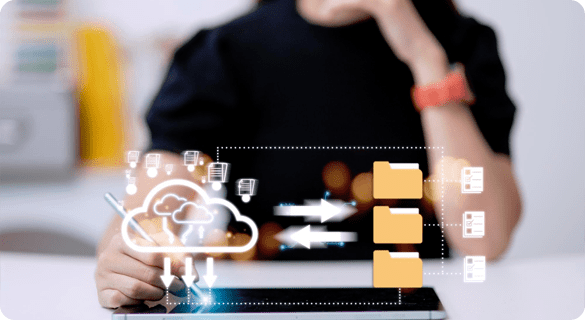 No third party dependencies required for the import operation
EdbMails migrates data directly to Office 365 bypassing any third-party intermediaries, DLL's or cloud platforms. It also ensures that the data in the source file is not altered in any way, resulting in a safe and reliable migration. If your OST file is corrupted, you can recover it offline using EdbMails without depending on Exchange server services or Active Directory components.