PST to live Exchange import tool
Migrate mail data from Outlook PST to On-premise and Live Exchange server

Smart migration

from PST to Exchange

EdbMails can help you import the contents from an old, backup or corrupted PST to Exchange and streamlines the process by enabling direct migrations. It is a trustworthy and powerful software program from which you can migrate folders, emails, contacts, calendars, tasks, notes, journals, mail properties with perfect data consistency between the source and target.

Get Started Now!
Supports all Exchange servers
EdbMails supports migration to / from all Exchange servers, including Exchange 2019, 2016, 2013, 2010, 2007, Hosted and On-Premise Exchange.
Perfect data consistency
The application can migrate a PST file with the same folder structure as the source and maintain complete data integrity and consistency with no modifications to the original data.
Migrate corrupted PST files
EdbMails can recover badly corrupted or encrypted PST files in their entirety and allows you to import the contents directly to Exchange without double hop migrations.
Map and migrate mailboxes
Using EdbMails, you can map mailboxes automatically and migrate without mailbox limitations. Its built-in incremental migration feature ensures that your mail items are not duplicated for successive operations.
Import Outlook PST to Exchange
in 3 steps
Migrate to any Exchange server step-by-step without technical skills.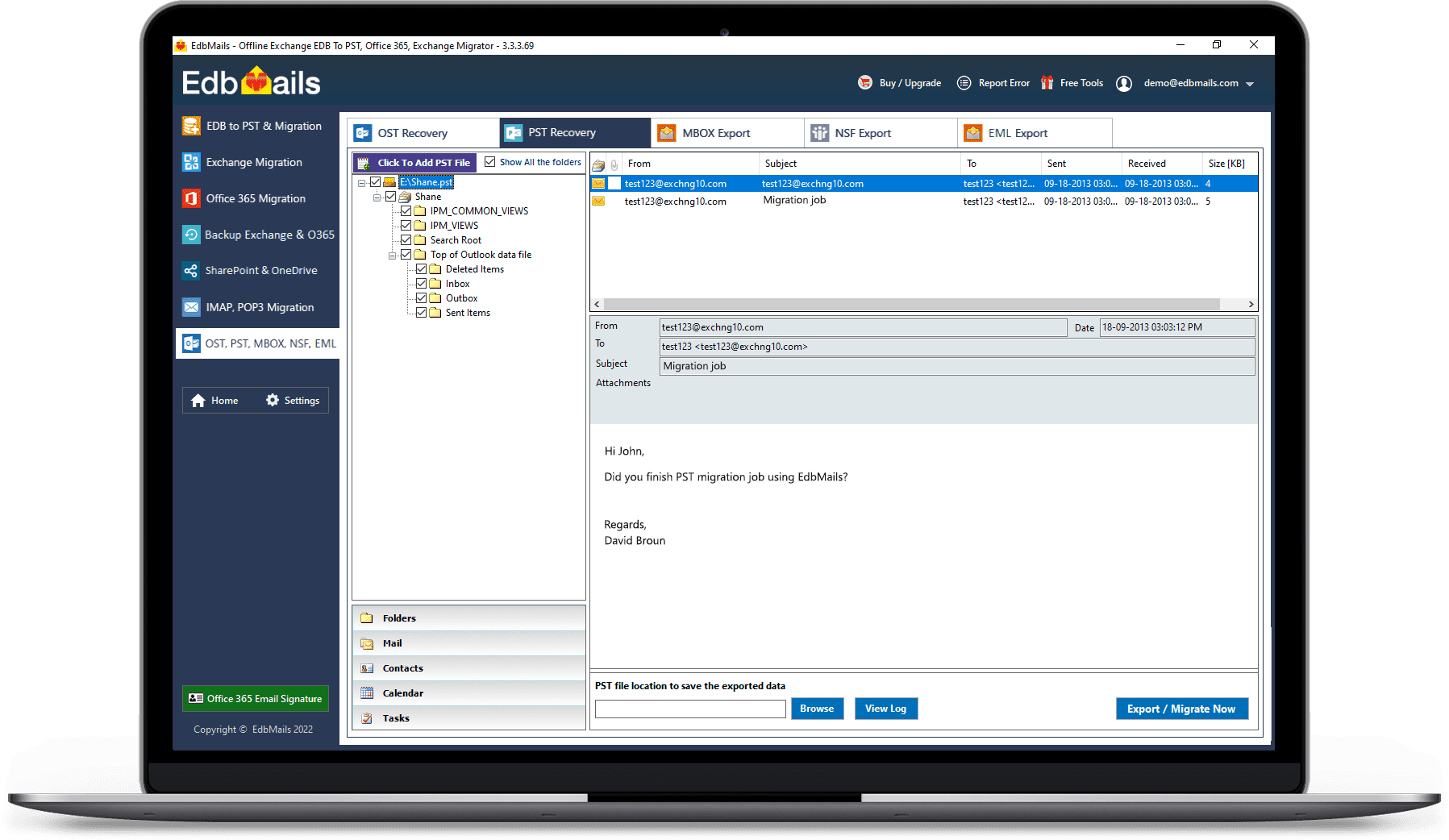 Step 1: Select the PST file for import

Download and install EdbMails PST to Exchange tool and select the PST file on your computer.

Step 2: Select the required mail items

Choose the required mail items / folders and click on 'Migrate to live Exchange'.

Step 3: Connect and migrate to Exchange server

Connect to Exchange 2019, 2016, 2013, 2010 or 2007, enter your credentials and start importing your data.
The Approach and
Plan of Action
EdbMails makes complex Exchange migrations as easy as a breeze.
Problem
Existing manual methods make it difficult for a typical user to migrate / import their data and mailboxes from a PST file to an Exchange server. Furthermore, they necessitate complex time-consuming procedures and are counterintuitive.
Opportunity
The development of a user-friendly and automatic tool with a variety of features for migrating a PST file simplifies the procedure while requiring no technical knowledge or manual labor.
Solution
EdbMails is a well-known Exchange migration software that, with its Outlook-oriented interface, makes PST to Exchange migration automatic and simple for users like you and allows you to transfer data in a few clicks.
How can
EdbMails help you?
The application can migrate PST to Exchange in a variety of practical situations.
Move mail data

from Exchange 2010 to 2016 / 2019

Do you have PST data from a legacy Exchange server such as Exchange 2003, 2007 and 2010? Not to worry, EdbMails can directly import such PST file contents to Exchange 2016 and 2019 without having to install Outlook in your environment.

Learn more
Migrate from

On-premise Exchange to live Exchange

Do you have an on-premise Exchange server profile configured in Outlook and want to migrate your data to live Exchange? Simply select the PST file in EdbMails, choose the mailbox and mail items you would like to migrate and start importing the contents in a stress-free manner.

Learn more
Restore Outlo

ok PST from backup

EdbMails software perfectly restores mailboxes from a PST backup, allowing you to preview the mail data and select them individually for the import. It can recover password-protected and corrupted PST files with no data loss, allowing you to recover valuable data.
Import PST

to Exchange 2016/ 2019 public folder

EdbMails can simplify migrating your mail data to a public folder on the target Exchange server or Office 365 tenant. In addition, it also supports migrating from a public folder (from a PST file) to any destination mailbox.
Transfer ema

ils from Gmail to Exchange

Do you have a PST file from a Gmail or Yahoo account in Outlook that you want to migrate to Exchange? EdbMails can assist you in quickly transferring all of your personal emails and mail-items from a backup PST to your business Exchange account.
Repair Outloo

k PST file and migrate to Exchange

If your Outlook fails to open or displays errors such as 'Outlook PST is too large to open', you can recover the PST using EdbMails and import it to Exchange and Office 365 without keeping your server down or affecting your users.
Frequently asked
questions
How to import a PST file into Exchange 2016 using EdbMails?

Can I migrate a corrupted PST file to Exchange?

What is the EdbMails granular migration feature?

Granular migration lets you recover and migrate data at the item level without requiring complex scripts. You can, for example, migrate individual mail items, contacts, and calendars rather than an entire mailbox which is practical if you are looking to recover specific items and carry out migration in stages. You can further customize the migration using EdbMails filter settings which allow you to select all your mail items based on Date, From / To Address, Subject, Attachments etc. Learn More
Does EdbMails have separate PST to Exchange & Office 365 migration setups?

No. There is only ONE EdbMails Setup comprising all the functionalities such as PST recovery, PST to Office 365 and PST to Live Exchange Server Migration. This is an advantage because you have access to all the recovery and migration options from a single interface. Learn More

How to migrate only selected folders from PST to Exchange?

EdbMails comes with a built-in facility for including and excluding specific folders. This is handy, for instance, if you are looking to exclude empty folders, junk and conversation history or include folders such as Inbox, Sent Items and so on. Learn More

How to view emails in EdbMails before importing PST to Exchange?