Why to EDB to Exchange Migration?
EDB to Live Exchange. Archive mailbox Migration. Public folder Migration.
Many organizations prefer to stay on-premises Exchange Server for the higher security
EdbMails migration solution is the simplest and the best way to migrate mailboxes from EDB to Exchange
Migrating to on-premises Exchange gives you physical control over your backup
Keeps critical data in-house. No third party has access to your information
On-premises Exchange will be more cost-effective for small to mid-sized companies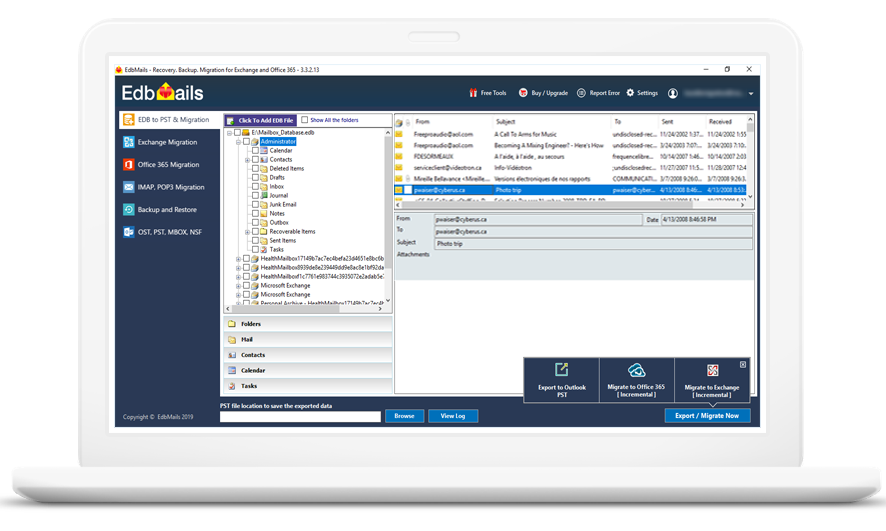 Why EdbMails for EDB to Live Exchange Migration?
Best EDB recovery tool. Automatic EDB to Exchange and Office 365 Migration

No-duplicate incremental migration
EdbMails helps you perform incremental migration from your EDB mailboxes/public folders to Live Exchange Server. Thanks to incremental migration, you can save both time and bandwidth as only the newly added items to the mailboxes will be migrated on consecutive migrations from the same computer.

No data loss whatsoever
EdbMails creates a 1:1 copy of the source EDB mailbox in the Live Exchange Server during the migration. Every last bit of information from the source EDB file will migrated as is without any data loss or modification. Thus, you can always rely on EdbMails for risk free EDB to Live Exchange Server migration.

Complete Public Folder migration
Support for Public Folder and Archive mailbox migration from EDB file to Live Exchange Server public folder and archive mailbox respectively. You can easily connect to destination Exchange Server Public folder/ Archive mailbox and perform migration.

Auto re-connectivity for intermittent connection problems
Intermittent connection problems during EDB to Live Exchange migration will not halt your migration progress as EdbMails can re-connect to the servers and progressing the migration.

No File size limitation
EdbMails does not impose any restrictions on the size of EDB file or the number of mailboxes that can be migrated to Live Exchange Server. This even very large EDB files can be migrated with ease.

Direct migration without third party dependencies
Install EdbMails on any source server or client computer. EdbMails provides completely reliable migration as it is not dependent on any third party cloud platforms or other services or DLLs and performs direct EDB mailbox migration to Live Exchange Server. All the credentials you provide for the migration will be kept secure.

Automatic mailbox mapping
For large migrations, EdbMails can automatically map the source EDB mailboxes to destination Exchange server mailboxes for a nearest matching saving time. You can also manually map the source EDB mailboxes to respective Live Exchange Server user mailboxes if you wish to.

Completely safe and secure migration
EdbMails stores all metadata that is necessary for your the EDB to Live Exchange Server migration project locally. There is no chance of any information leakage to outside.

Detailed migration reports
EdbMails will generate comprehensive logs for all your migration activities. These logs will contain folder wise migration details and the exported mail count. You can also view these logs during or after an ongoing migration operation.

Automatically set Impersonation rights
You will no longer have to rely on any powershell cmdlets for setting impersonation rights as EdbMails will do it automatically for you. Impersonation rights enables the admin user to migrate the mailboxes of other users without needing their credentials.

Automatic mailbox creation on the target server
EdbMails can automatically create mailboxes in the target Live Exchange Server. EdbMails will ask you for the User Principal Name (UPN), password and other required details, which once you provide, the rest will be handled seamlessly by EdbMails. It can also assign licenses automatically to the newly created mailboxes for your convenience.

Various filtering options
Export exactly what you need as EdbMails allows you to include/exclude mail filters based on before/after date, subject, to/from address and attachment names for the migration operation.
What we recover, export and Migrate?
Features included for EDB recovery. EDB to PST converter. EDB to Exchange and Office 365 migration
Data from EDB

Export to PST

Migrate to Office 365

Migrate to Exchange

Mail Items
Calendar
Contacts
Alias / Distribution Groups
Tasks
Notes
Data Journal
Public Folders (Unlimited)
Archive Mailboxes (Unlimited)
Shared Mailbox
Massive Mailboxes (50GB+)
Email Categories
Folder & Calendar
Mailboxes (Unlimited)
Meeting Invite Integrity/Status
Applicable for EDB to Exchange and Office 365 Migration
Auto Mapping (Map source and destination mailboxes)
Incremental Migration (No duplicates)
Automatic Mailbox creation on target server
Archive Mailbox migration
Public folder migration
Shared folder migration