Why to EDB to Office 365 Migration?
EDB to Live Exchange. Archive mailbox Migration. Public folder Migration.
Microsoft is no longer supporting legacy Exchange servers and Windows servers. No bug fixes and security updates.
Advantage of Migrating to Office 365 cloud. You will not have to worry about server maintenance, security issues and system updates.
Microsoft inbuilt Migration tool for office 365 migrations is complex and time consuming process. It involves a lot of research and scripting.
On-premises deployments of your Email server, data is vulnerable to hardware and software issues, corruption, and unauthorized accesses.
Access your email on multiple devices using Office 365 outlook and mobile application.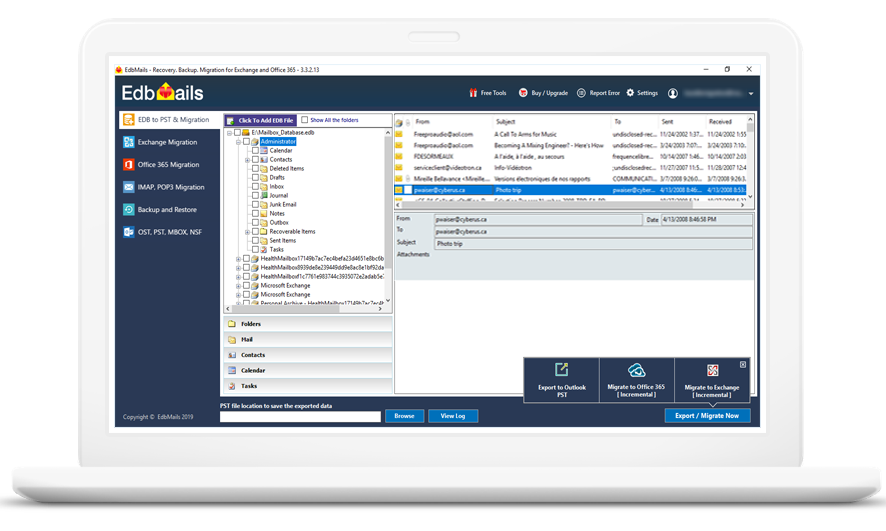 Why EdbMails for EDB to Office 365 Migration?
Best EDB recovery tool. Automatic EDB to Office 365 Migration tool.

No-duplicate incremental migration
EdbMails helps you to perform incremental migration from your EDB mailboxes/public folders to Office 365. Thanks to incremental migration, you can save both time and bandwidth as only the newly added items to the mailboxes will be migrated on consecutive migrations from the same computer.

No data loss whatsoever
EdbMails creates a 1:1 copy of the source EDB mailbox in Office 365 tenants during migration. Every last bit of information from the source EDB file will migrated as is without any data loss or modification. Thus, you can always rely on EdbMails for risk free EDB to Office 365 migration.

Complete Public Folder migration
Support for Public Folder and Archive mailbox migration from EDB file to Office 365 public folder and archive mailbox respectively. You can easily connect to destination Office 365 Public folder/ Archive mailbox and perform migration.

Auto re-connectivity for intermittent connection problems
Intermittent connection problems during EDB to Office 365 migration will not halt your migration progress as EdbMails can re-connect to the servers and progressing the migration.

No File size limitation
EdbMails does not impose any restrictions on the size of EDB file or the number of mailboxes that can be migrated to Office 365. This even very large EDB files can be migrated with ease.

Direct migration without third party dependencies
Install EdbMails on any source server or client computer. EdbMails provides completely reliable migration as it is not dependent on any third party cloud platforms or other services or DLLs and performs direct EDB mailbox migration to Office 365. All the credentials you provide for the migration will be kept secure.

Automatic mailbox mapping
For large migrations, EdbMails can automatically map the source EDB mailboxes to destination Office 365 mailboxes for a nearest matching saving time. You can also manually map the source EDB mailboxes to respective Office 365 mailboxes if you wish to.

Completely safe and secure migration
EdbMails stores all metadata that is necessary for your the EDB to Office 365 migration project locally. There is no chance of any information leakage to outside.

Detailed migration reports
EdbMails will generate comprehensive logs for all your migration activities. These logs will contain folder wise migration details and the exported mail count. You can also view these logs during or after an ongoing migration operation.

Automatically set Impersonation rights
You will no longer have to rely on any powershell cmdlets for setting impersonation rights as EdbMails will do it automatically for you. Impersonation rights enables the admin user to migrate the mailboxes of other users without needing their credentials.

Automatic mailbox creation on the target server
EdbMails can automatically create mailboxes in the target Office 365. EdbMails will ask you for the User Principal Name (UPN), password and other required details, which once you provide, the rest will be handled seamlessly by EdbMails. It can also assign licenses automatically to the newly created mailboxes for your convenience.

Various filtering options
Export exactly what you need as EdbMails allows you to include/exclude mail filters based on before/after date, subject, to/from address and attachment names for the migration operation.
What we recover, export and Migrate?
Features included for EDB recovery. EDB to PST converter. EDB to Exchange and Office 365 migration
Data from EDB

Export to PST

Migrate to Office 365

Migrate to Exchange

Mail Items
Calendar
Contacts
Alias / Distribution Groups
Tasks
Notes
Data Journal
Public Folders (Unlimited)
Archive Mailboxes (Unlimited)
Shared Mailbox
Massive Mailboxes (50GB+)
Email Categories
Folder & Calendar
Mailboxes (Unlimited)
Meeting Invite Integrity/Status
Applicable for EDB to Exchange and Office 365 Migration
Auto Mapping (Map source and destination mailboxes)
Incremental Migration (No duplicates)
Automatic Mailbox creation on target server
Archive Mailbox migration
Public folder migration
Shared folder migration
EdbMails recovered all the mailboxes successfully from an offline database file of a crashed Exchange server. Strongly advised for offline Exchange database recovery.
– Ebner Lehmann
Germany

Converting EDB files with EdbMails simplifies the process of creating a PST for Outlook. This tool, on which I've been working for a week, works flawlessly in all situations and with all EDB sizes.
– Stephen Smith
United Kingdom

I was able to export every mailbox with ease from an Offline EDB from a faulty Exchange server to a PST file. I'm thrilled with the outcome.
– Valentino Rossi
Italy

My Exchange-related problems were resolved thanks to EdbMails. It is undoubtedly the greatest tool available for converting EDB to PST.
– Albert Condron
United States

Finally, after prolonged online searching, I was successful in recovering EDB to PST using EdbMails. I used the Free Trial version, which can be downloaded for free. I ultimately decided to purchase the full edition of this software after reviewing all of its functionalities, and it accomplished exactly what it claimed to.
– Selena Henry
United States

EdbMails EDB converter is an ideal tool to convert Exchange EDB files into different saving formats and fix corruption concerns. For all Exchange server issues, it is the most reliable and effective solution.
– Stefano Endrizzi
Italy

I was over the moon after I was able to recover all of my emails from a corrupted Exchange EDB file. I can't thank EdbMails enough and wholeheartedly recommend it to anyone who is having serious difficulties recovering their data from an Exchange server. EdbMails completely blew my mind.
– Nathan Vincent
United Kingdom

EdbMails EDB to PST converter is just an outstanding tool and software has a user-friendly feature that helps me to recover my damage Exchange EDB emails. Thanks to the creator of this application.
– Ren Corten
Bruehl, Germany

Having used EdbMails EDB to PST on numerous occasions I have always had success with recovering the data I needed.The software is easy to use, the interface is clean and intuitive. The support is excellent and I wouldn't have any problem recommending this software
– Daniel Butterworth
United Kingdom

I must say, your responsiveness and effectiveness is VERY IMPRESSIVE. My expectations were well exceeded by your brilliant EdbMails Exchange Server recovery service.
– Anthony Bonomini
Australia

I've used EdbMails for Exchange Server Recovery, which worked very well for exporting directly from .edb Exchange databases to standalone .pst files. Great for recovery. The team behind this project is very friendly and ready to walk the extra miles to fix any issue you have with installation or extraction.They helped me to retrieve a pst file from a backup EDB without using any Exchange server. I was extremely pleased how they handled any small problem and they did not rest until the job was done. I am recommending to everybody to use EdbMails services, they are just great !
– Stefan Suba
Mississauga, Canada

Just to let you know that the exports to PST are going great. I have done about 30 mailboxes now and the largest so far is a 50GB PST. Great software.
– Steve Linter
United Kingdom

Wir haben leider alle unsere E-Mails verloren, als unser Exchange-Server abgesturzt war. Dank EdbMails konnten wir die beschadigte Exchange EDB problemlos in PST konvertieren und alle unsere E-Mails problemlos wiederherstellen. Danke vielmals an EdbMails Team.!
– Max Luft
Germany

Lamentably, only a couple of days back, I had lost all my association mails alongside considerable rundown of contacts. Recently I have used EdbMails EDB to PST Converter Software and it really worked like a pearl.
– Renato
Switzerland

Best support provided to recover Exchange EDB file. I'm happy with the overall experience of using the EdbMails application
– Jameel Ahmed
UAE

This product recouped nearly everything which we had lost when our Exchange Server got slammed. Great product.
– Melvin
Amsterdam, Netherlands

It is in fact a great product. You've saved me countless sleepless nights of manually exporting individual mailboxes of 10GB+ to PST and then importing back again to O365.
– Ignatii
Canada

BOSSGTS would like to thank EdbMails for their amazing software - through this software, we were able to recover multiple damaged EDB database files, and successfully migrate data to a new, live exchange server. We personally recommend this solution to ANYONE stuck with mail downtime, and going forward, will not use any other software, other than EdbMails suite.
– Darren - South Africa
https://bossgts.com
Trusted by Clients Worldwide
All-in-one EDB recovery and export
Recover and convert an Exchange EDB file and migrate to Office 365 and live Exchange
EdbMails Demo / Trial Version
Step 1. Download and install EdbMails
Step 2. Click the 'Start Your Free Trial' button
You have selected Personal edition license. Using this license, you can recover and export your
EDB files to PST. For EDB to Office 365 and EDB to Exchange Migration, choose the suitable plan.
You have selected Personal Bundle license. Using this license, you can recover and export EDB files,
PST files and OST files to PST. For Office 365 and Live Exchange Migration, choose the suitable plan.

Hi, May I help you?
Hide Chat Now