PowerShell commands to grant the admin account impersonation rights.
Make sure the admin account is a global admin.

Click on the Windows Start button.

Search for Windows PowerShell (PowerShell should already be installed).

Start PowerShell under an administrator context (right-click -> run as administrator)

Run the following PowerShell commands (one at a time):
Step 1:
Set-ExecutionPolicy Unrestricted

Step 2:
$LiveCred = Get-Credential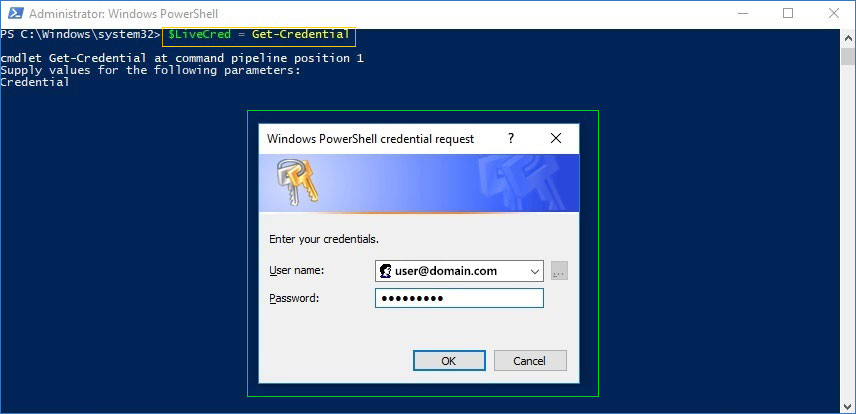 Enter the user id and password of Office 365 Global admin account.
Step 3:
$Session = New-PSSession -ConfigurationName Microsoft.Exchange -ConnectionUri https://ps.outlook.com/powershell/ -Credential $LiveCred -Authentication Basic -AllowRedirection

Step 4:
Import-PSSession $Session


Step 5:
Enable-OrganizationCustomization

Ingore this results, if the error is "This operation is not required. Organization is already enabled for customization."
Step 6:
New-ManagementRoleAssignment -Role "ApplicationImpersonation" -User admin@domain.com

EdbMails Demo / Trial Version
Step 1. Download and install EdbMails
Step 2. Click the 'Start Your Free Trial' button
You have selected Personal Bundle license. Using this license, you can recover and export EDB files,
PST files and OST files to PST. For Office 365 and Live Exchange Migration, choose the suitable plan.

Hi, May I help you?
Hide Chat Now